NATHANIEL RICHMOND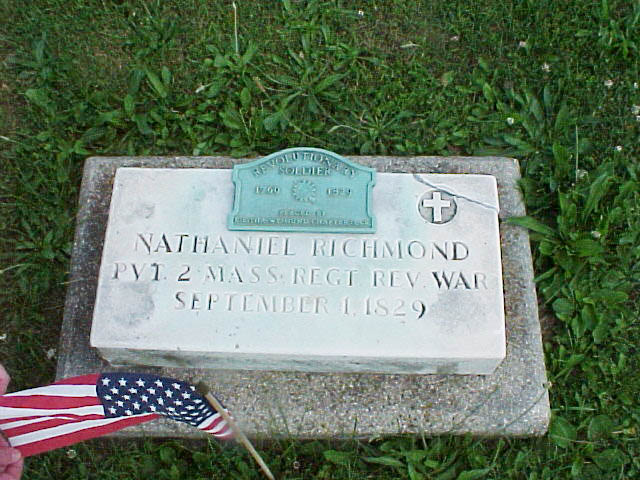 Born: Mar 26, 1760, Taunton, Mass

Died: Sept 1 1829, Pendleton, Indiana

Burial: Falls Cemetery, MAdison County, Indiana

Service: Served as private under Capt Abner HAYARD'S Co., @nd Mass Regt

Enlisted Aug 9, 1779, July 20, 1780 and April 1781 served four years

Proof: Adjuntant Generals Office, War Dept, Washington
Certified copy of the discharge of Nathaniel Richmond from the Army of the Revolution in 1783.
This copy was dated Jan 25, 1823.

Nathaniel Richmond's DAR plaque in Grovelawn, Pendleton; (Since the publication of the book we're working from, the DAR has placed a commemorative stone and plaque for this veteran in the military section of the new part of the cemetery. His grave, the stone of which is not legible, is in the old part along with the unmarked graves of Elijah Boston, Philip Hobaugh, and William Walls. The old part is across the road and used to be called Falls Cemetery. Please supply a photo of this picturesque spot if you'd like to use it on the web site.)

From American Revolutionary patriots discussed by Raymond Davis in this biography of Madison County.

Married: Married (2nd) Susannah LAMBERT (1763-1845) married in 1784

Children:

John: Born 1785 married Lorane SPRAGUE PATCHIN

Sylvester: Born 1797 married Electa BELL

Zebulon:

Nathaniel:

Gideon:

Philena:

Dighton:

Priscilla

Abiezer:

Molly:

Thankful:

Solomon:

Information and Photo courtesy of Melody & Tom Hull, Madison County, Indiana

ANYONE WITH INFORMATION ON THIS PATRIOT
I'D APPRECIATE HEARING FROM YOU.Stephen D Franklin

Directions: Falls Cemetery (now old part of Grovelawn)--south of I 69 on E side of Pendleton Ave., S of Co. Rd. 600S. The unmarked graves of Elijah Boston, Philip Hobaugh, William Wall are in this old part.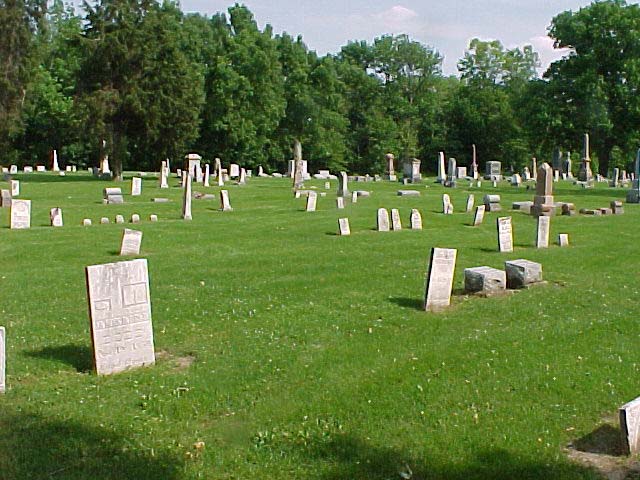 The thirteen included on our web site Pioneers Cemeteries and Their Stories, Madison County, Indiana. were initially researched by Madison County historian Raymond Davis.


Nathaniel Richmond, William Wall, Philip Hobaugh

Grovelawn Cemetery, Fall Creek Township




Nathaniel Richmond is the patriarch of a family with several descendents of that name. Nathaniel has a DAR commemorative plaque and stone, placed by descendents, under the flag in the military section in the west half of Grovelawn. Nathaniel was born in Middleborough, Massachusetts, in July of 1763. He was a member of that state's 2nd Regiment and saw action at the battles of Valentine Hill and White Plains. His discharge was signed by George Washington, and he is listed in the DAR Index of Patriots. Nathaniel married Susannah Lombard in 1783. When Indiana first opened for settlement, he and his family moved in. He is first recorded in Dearborn County in 1818 and then in Fayette County in 1821. Sometime in the early 1820s, Nathaniel found his way to Pendleton and decided to stay there with his family. Several of his children are listed in the records of Fall Creek Township. Nathaniel died in September of 1829; his widow was still a resident a decade later.

The DAR commemorative plaque and stone for Nathaniel Richmond is located under the American flag in the military section of Grovelawn. The cross in the corner of his stone indicates that he was a minister. Several of Nathaniel's descendents are also recorded as religious leaders. Nathaniel's original burial site was on the homestead west of Pendleton. His grave was moved at the early 20th century.




Indiana War Graves Index - Continental Chapter SAR, Muncie, Indiana
The Indiana State Society SAR Homepage