THOMAS FERGUSON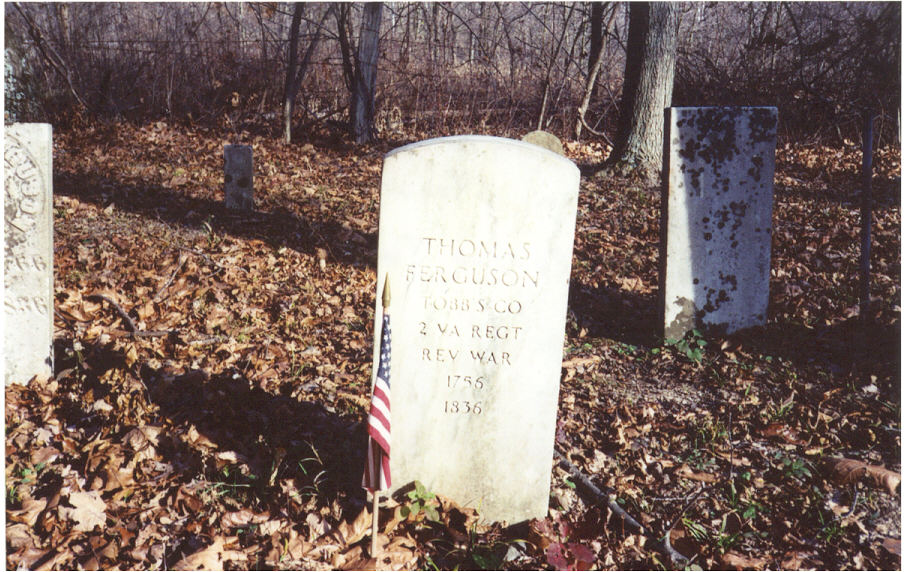 Born: Nov 25, 1756, Virginia

Died: June 10, 1836

Burial: Probably Hobbieville, Greene Co, Indiana.

Service: Private in Capt Benjamin SPILLER'S Co., Capt Augustine TOBB'S Co., 2nd Virginia Regt
commanded by Col Gregory SMITH and Col William BRENT.

Enlisted for three years.

Proof: Portrait and Biographical Album of Sedgwick Co., Kansas ppages 351-352

Married: Nancy GILLESPIE (1773-1850)
She was the widow of John BOWEN of Russell County, Virginia.
She is listed as Nancy Gillespie in the Annals of Tazewll County, Virginia.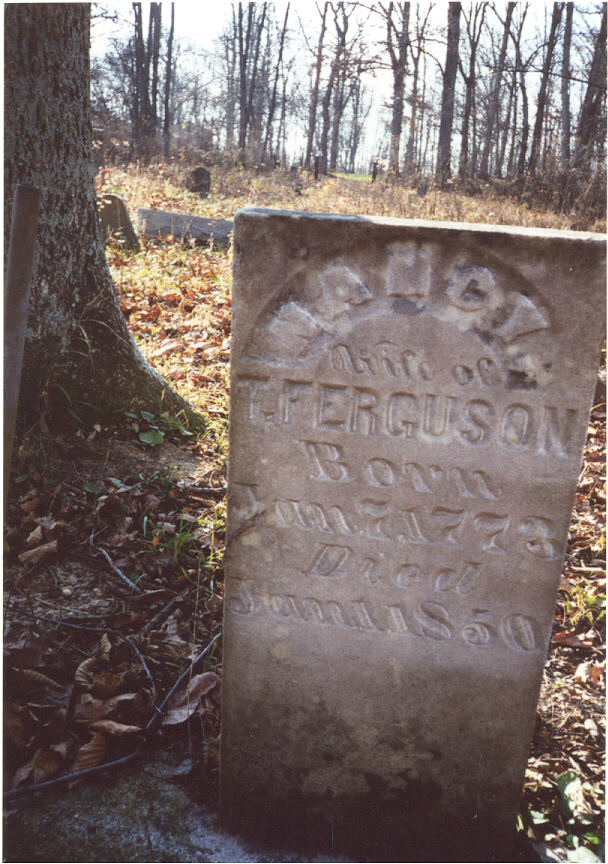 Children:

Benjamin:

Rose:

William: Born 1794,Twin of Andrew

Andrew: Born 1794,Twin of William

Mary

James

Hannah

Hiram:

Samuel

Thomas:

Ralston:

Nancy

John Wesley:

Augustine (Gus):


Information collec ted by Mrs Rlvenah F Miller, Vincennes, Indiana

Directions:

At the junction of State Hwy 54 & 45 , take State 54 east for 1.2 miles to Hobbieville exit, turn left or north on County Road CR 150 S and go for a short distance to Hobbieville, then go on CR 1260 E for a short distance, then 190S for short distance, and turn onto CR 1320 and go for about 6/10 mile and turn left on Wayne Vaught Farm (sign at entrance), go upto the graveled driveway for about 2/10 of a mile to the house and Storm Cemetery is back of the house. Park vehicle in front of the house and walk across yard to cemetery.

Contact Wayne Vaught at (812) 825-6276 for permission to access to cemetery, thanks!

Indiana War Graves Index - Daniel Guthrie Chapter SAR, Bedford, Indiana SAR
The Indiana State Society SAR Homepage